Home Care Nursing Services: Tips on Finding an In-Home Care Provider
For most people, there's no place like home. It's where they feel the safest and most comfortable, where they can be themselves and relax with their family, friends, and pets. Sometimes, however, it's difficult to manage alone — especially if you are elderly or have a physical disability that makes it impossible to perform daily tasks on your own. Fortunately, in-home care nursing services exist to provide assistance to those who need it.
How to Find an In-Home Care Provider
When you're ready to start looking for an in-home care provider, there are a few things you should keep in mind. First, consider what type of care you need and what type of services you're looking for. Do you need help with personal care, like bathing and dressing? Or do you need more comprehensive medical care? Once you know what type of care you need, you can start to narrow down your options.
For example, if you're searching for an elder care provider who provides at-home nursing care, then your best bet is to search online or through word of mouth. Other good places to look include senior living communities, hospice agencies and long-term nursing facilities. Be sure that the person providing homecare is licensed or certified as a nurse or medical professional before Deciding.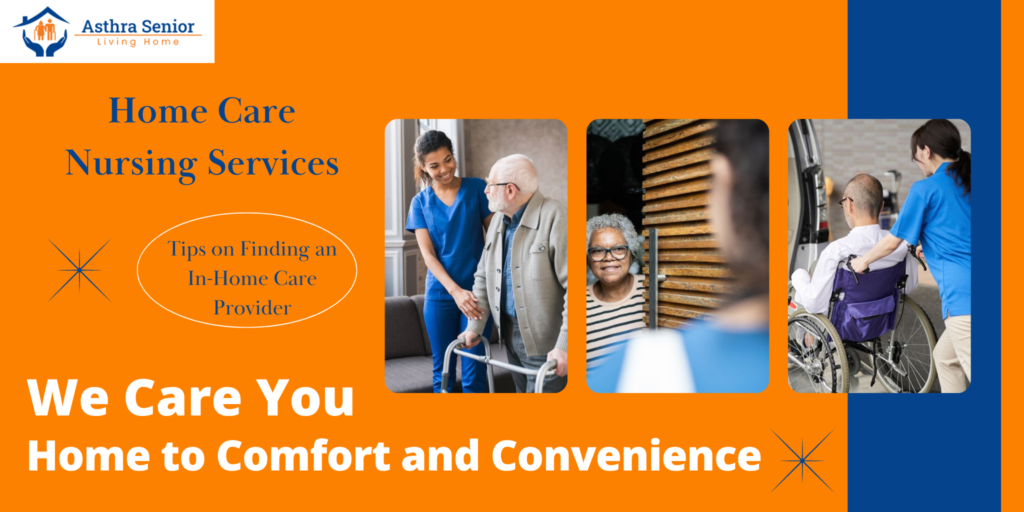 Understand the level of support needed
If you are in need of nursing care, you will want to find a caretaker who is licensed and has experience in the field. If you are looking for someone to provide more general care, such as help with activities of daily living, then you may be able to find a caretaker through a friend or family member. There are also many agencies that can help connect you with a qualified caretaker.
Once you have found a few potential candidates, be sure to interview them and ask about their experience and qualifications. You should also make sure they understand your needs. It's important to know exactly what type of care you'll need and how often before hiring someone so that they can adjust their schedule accordingly.
How Does An In-Home Nurse Help My Loved One?
In-home nursing care can help your loved one by providing medical care, support, and companionship. Here are a few tips on finding a caretaker that is right for your loved one:
Make sure the nurse is licensed and insured.
Check references and ask for recommendations.
Interview the nurse to get a sense of their personality and see if they are a good fit for your loved one.
Discuss what you loved one's needs are with the caretaker so they know what to expect.
Meet with potential caregivers at least twice before hiring them so you can see how they interact with your loved one.
What Will An In-Home Nurse Do?
An in-home nurse will provide senior care services such as bathing, dressing, and grooming; prepare meals; monitor vital signs; give medication; and provide transportation to doctor's appointments. They will also keep the home clean and safe, and provide companionship. When choosing an in-home nurse, it is important to find someone who is experienced, certified, and insured. Look for a nurse that has experience with seniors, or that works closely with seniors on a regular basis.
There are many online resources available to help people choose a senior care provider including agencies and national databases of nursing professionals. The National Association of Professional Geriatric Care Managers provides this list of questions that can be used when interviewing potential candidates.
Consider the caregiver's experience
If you are considering care at home for a loved one, it is important to find a caregiver with the right experience. You will want to find someone who is compassionate and patient, as well as experienced in the type of care your loved one needs. The best way to find a qualified caregiver is to ask for recommendations from friends or family or to contact a professional nursing agency. Once you have found a few potential caregivers, be sure to interview them and ask about their experience and qualifications.
Be cautious of background checks
When looking for a caretaker at home, it is essential to be cautious of background checks. You want to make sure that the person you are hiring is trustworthy and reliable. There are a few things you can do to help ensure this:
Get references from friends or family who have used nursing care services before.
Ask for a criminal background check and review it yourself.
Meet with the potential caretaker in person before making any decisions.
These three suggestions will help ensure that you are choosing a trustworthy caretaker at home for your loved one or for yourself. By investing a bit of time into finding a high-quality caretaker, you can feel confident knowing that your loved one is getting great care from someone you trust and feel comfortable around.
How to Create a Good Relationship With Your New Health Aide
Elder care can be a difficult transition, especially if you are used to being independent. Here are a few tips to help you create a good relationship with your new health aide:
Talk openly and honestly about your expectations, needs, and concerns.
Get to know each other by sharing stories and getting to know one another's interests.
Respect each other's privacy and personal space.
Be open and honest about any issues that arise or changes in your condition.
Allow the caregiver to teach you something new daily while respecting their expertise as a nurse or caregiver.
Encourage the caregiver by telling them what they're doing well, what they do well for you, how it helps you etc…
How Does This Affect Senior Patients?
As we get older, many of us face the prospect of living with a chronic illness or disability. For some, this may mean leaving their home and moving into a long-term care facility. But for others, it may mean receiving care at home from a nurse or other health care provider. The decision to receive care at home is not one that should be taken lightly. It's important to consider your physical condition, as well as your financial situation.
What Makes the Best In-Home Care Providers So Great?
Asthra Senior Living Home is the best in-home care provider because they offer a wide range of services that can be customized to each individual's needs. They also have a team of highly skilled and experienced professionals who are passionate about providing quality care. Plus, they offer a free consultation so you can get to know them and their services before making a commitment.